Remember to be wary of somewhat mild spoilers, as this is a compilation of all three books being reviewed!
To start off, I was so excited for this series that I set up a Tumblr account in order to liveblog my thoughts as I went. I wouldn't recommend it on mobile, since readmores are pesky, but if you're interested in seeing what I have to say as I read my books, you can hop on over to there to see! I don't plan on doing it for all of my books I read, but a fair few I have a feeling I'll be liveblogging. I get chatty.
Anyway, onto the series review!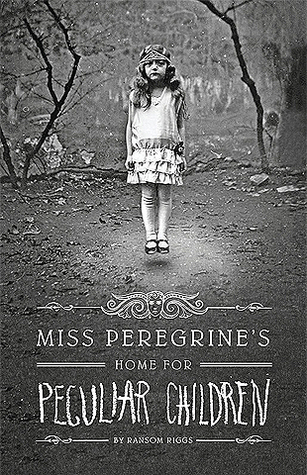 Miss Peregrine's Home for Peculiar Children by Ransom Riggs
Series: Miss Peregine's Peculiar Children #1
Genres: Young Adult, Fantasy, Fiction
Release Date: Published June 7th 2011 by Quirk
Format: Hardcover, 352 pages
Rating: 4/5
Find it here: Goodreads || Book Depository
A mysterious island. An abandoned orphanage. A strange collection of curious photographs.

A horrific family tragedy sets sixteen-year-old Jacob journeying to a remote island off the coast of Wales, where he discovers the crumbling ruins of Miss Peregrine's Home for Peculiar Children. As Jacob explores its abandoned bedrooms and hallways, it becomes clear that the children were more than just peculiar. They may have been dangerous. They may have been quarantined on a deserted island for good reason. And somehow—impossible though it seems—they may still be alive.
It wasn't quite what I was expecting. I had gone into the book thinking there would be more mystery and creepiness to it, which originally had affected me at the beginning, but as I went, the creepiness died down significantly. Before knowing about the children in the pictures and seeing them as more than just old photographs, I had been extremely creeped out by them. Once I had become more familiar with them, though, the pictures were just that: pictures of children living in the home that Jacob was visiting. It was a really weird shift for me, and while I did welcome it to a degree, I had really been hoping the books were a little scarier.
Overall though, I enjoyed the book a lot. The format was definitely my favorite thing overall, with the set up of the pages and pictures and the overall feel of the book itself. I really enjoyed it.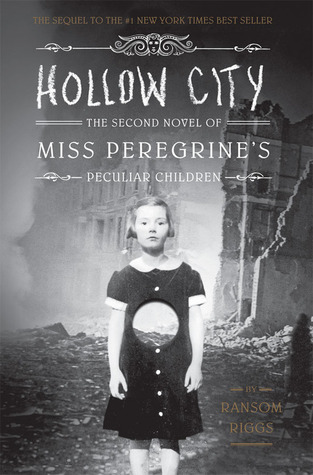 Hollow City by Ransom Riggs
Series: Miss Peregine's Peculiar Children #2
Genres: Young Adult, Fantasy, Fiction
Release Date: Published January 14th 2014 by Quirk Books
Format: Hardcover, 394 pages
Rating: 4/5
Find it here: Goodreads || Book Depository
Having escaped Miss Peregrine's island by the skin of their teeth, Jacob and his new friends must journey to London, the peculiar capital of the world. Along the way, they encounter new allies, a menagerie of peculiar animals, and other unexpected surprises.
I read this whole second book in about two days, having been putting it off for a little while because I didn't feel like getting into it. Don't get me wrong, they're really good books, but they're somewhat slow moving until you get to the action. Up until the end of this one, I was only going to give it three stars. I found it somewhat boring at points, slow-moving despite the whole book only taking place over the course of two days, and overall kind of meh. The ending, however, gave me some renewed faith for what the fourth book was going to be, and gave me the push I needed to give the book four stars in total (it was close before — just not totally there). It still bothers me some that it only happened over the course of a couple days, I kept thinking it should have been longer. Why? I'm not actually sure, I'm just aware that the small fact bothered me quite a lot.
Another thing I noticed is, as I was reading, I kept thinking to myself, "There isn't enough magic in this". I know I'm wrong, it's not a book about magic, but for some reason, I kept thinking that as I went. I think I need to read something with magic when I'm done with this series. This is still a very interesting and pleasant series, though, even if it had its slow moments and my brain was busy focusing on things that I already knew weren't going to happen. The format of the book, as always, is my favorite thing out of it all. I love it.
Library of Souls by Ransom Riggs
Series: Miss Peregine's Peculiar Children #3
Genres: Young Adult, Fantasy, Fiction
Release Date: Published September 22nd 2015 by Quirk Books
Format: Hardcover, 458 pages
Rating: 5/5
Find it here: Goodreads || Book Depository
A boy with extraordinary powers. An army of deadly monsters. An epic battle for the future of peculiardom.

The adventure that began with Miss Peregrine's Home for Peculiar Children and continued in Hollow City comes to a thrilling conclusion withLibrary of Souls. As the story opens, sixteen-year-old Jacob discovers a powerful new ability, and soon he's diving through history to rescue his peculiar companions from a heavily guarded fortress. Accompanying Jacob on his journey are Emma Bloom, a girl with fire at her fingertips, and Addison MacHenry, a dog with a nose for sniffing out lost children.

They'll travel from modern-day London to the labyrinthine alleys of Devil's Acre, the most wretched slum in all of Victorian England. It's a place where the fate of peculiar children everywhere will be decided once and for all. Like its predecessors, Library of Souls blends thrilling fantasy with never-before-published vintage photography to create a one-of-a-kind reading experience.
The third book, by far, was the best of the trio. It might not have had the same wonder to it after two previous books easing you out of it and making the whole aspect of peculiardom and their world seem more at home to the reader, but it made up for it by far with the story, action, and twists. I really enjoyed how the entire adventure that took place in this third book alone played out. Where the second book didn't quite meet my expectations, the third book went above and beyond, and I came out of it pretty damn satisfied with what I had read. Fantastic execution, probably one of the best ends to a series I've read in a long time. I can't wait for more from Riggs.
Side note: I do wonder what happened to the invisible gypsy boy (I can't remember his name) from the second book. Did he ever find someone to help him? Is this possible plot for a spin-off, maybe? I'd like to know what happened to him, honestly.
Welp, that's all for this series review.
Thanks for reading!