This review is spoiler-free!
Other reviews:
The Raven Boys || The Dream Thieves || Blue Lily, Lily Blue
---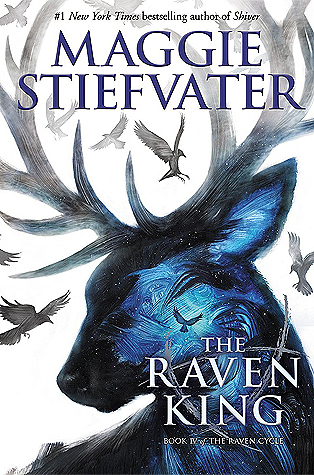 The Raven King by Maggie Steifvater
Series: The Raven Cycle #4
Genres: Young Adult, Fantasy, Paranormal
Release Date: April 26th 2016 by Scholastic Press
Format: Hardcover, 438 pages
Rating: ★★★★★
Find it here: Goodreads || Book Depository
So, fair warning? I'm writing this immediately after finishing the book, so the emotions are not only through the roof, but the book hangover is unreal right now. There is a hole in my heart and, goddammit, I was hoping for a good reading month. How am I going to read anything when I'm feeling like this.
I am in pure awe at how nicely that finale to the quartet of the series that is The Raven Cycle manifested in my hands and concluded. If I wasn't wholly and irreversibly attached to every single one of the characters, I think I'd probably still be floored by the way Steifvater writes her chapters. And her scenes. And her characters.
There's really nothing else to say about it, honestly. The final book was written beautifully, we were given a lot of what we wanted (we being me), thrown through more than one spiraling loop of confusion, and taken down a road of no-return. I was not thrilled with everything that happened, don't get me wrong, but I was fully aware that some of the things that needed to happen for me to be in my happy place were not plausible, so I was bound to have my heart ripped into at least a few pieces.
I am, however, totally thrilled with the book as a whole. Don't confuse my heart pieces that now litter my bedroom floor with disappointment in what was chosen to happen. They're not one in the same. I really love this series, and I'm extremely sad to see it go.
I am also, however, totally curious as to what was going on with that epilogue. I can't explain what I mean in more words because, well, spoilers. But if you've read the epilogue intently enough, you may understand what I mean. (I highly doubt, but I can hope.)
I'm going to stop before I say spoilery things.
Great series, great end. I want to take the journey again.
As Gansey would say, that's all there is.