This review is spoiler-free!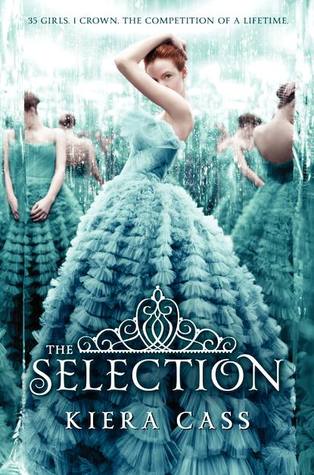 The Selection by Kiera Cass
Series: The Selection #1
Genres: Young Adult, Dystopia, Romance
Release Date: April 24th 2012 by HarperTeen
Format: Hardcover, 336 pages
Rating: ★★★☆☆
Find it here: Goodreads || Book Depository
First off, I just want to make note that I have never actually seen The Bachelor/Bachelorette before, so, while I understood the basic premise, I didn't go into this knowing that I would like the idea that surrounds both those shows and this series. I figured I would be kind of meh about it as a whole, and, as of this first book, I'm correct. I am going to continue the series, regardless, since I basically finished this book in a day and I love quick reads, they keep me from slumping.
While this book didn't necessarily do it for me, I could definitely see the pull of it and why so many people like it so much. On my end, I really just didn't like America much at all. I liked the way she handled some situations, but most of the time I just couldn't connect with her and was kind of bored with her or annoyed, closer to the end. Maxon, though? I loved his character, and watching him fumble occasionally and pat arms almost religiously were my favorite things. I also enjoyed the different personalities of the girls and the settings, but what I was most interested in was the world this whole thing is set in, and I was disappointed I couldn't see more of it.
Even though I'm almost positive I know what's going to happen thanks to the titles of the books that follow, and then the sequel-ish series thing that follows the first three books, I'm still pretty curious about how it happens and how much of a role other aspects will play in the final event.
Thanks for reading!