This review is spoiler-free!
---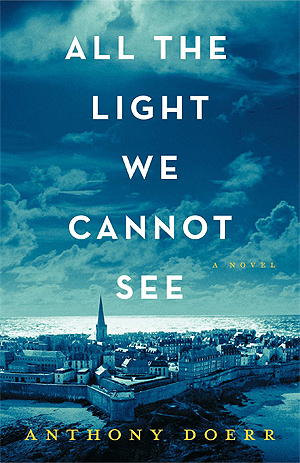 All The Light We Cannot See by Anthony Doerr
Series: None.
Genres: Adult, Historical Fiction, WWII
Release Date: Published May 6th 2014 by Scribner
Format: Hardcover, 530 pages
Rating: ★★★★★
Find it here: Goodreads || Book Depository
Like you may know if you've been around a while, historical fiction set in World War II, no matter where on the planet, is one of my auto-read subjects. Throw it in Nazi Germany, Poland, or anyone so directly effected by what was happening that they're what comes to mind when you think of the war, and it's even better. All The Light We Cannot See is set, originally, in both France and Germany, with characters Marie-Laure and Werner taking us on their journeys during the war, respectively. It was extremely interesting to read.
Though it seems to be extremely daunting in its size, if you're thinking about reading it and enjoy the subject it revolves around, give it a go anyway. The way it's written is in alternating perspectives between the two main characters, and the timeline is relatively linear. There were times where I would get a little confused about what was happening because of some time jumps, especially because I'm absolutely terrible at remember dates regardless of what they're being applied to (I forget birthdays all the time), but if you take a moment to figure out the age of the character you're reading about, it gets a lot easier to slot it into a specific time, as one is more present and the other is from when the characters are children, up until they are in their late teens.
Another very nice thing about this book, despite its size, was the fact that the chapters are all very, very short, so you don't get that feeling of boredom in what's going on in the middle of a chapter simply because it's so long that your brain doesn't get that little break it needs whenever the chapter header appears. It also made it great for when I only had a little bit to read; I could knock out a chapter real quick and move on without forgetting what happened halfway in.
The story, despite being somewhat depressing (okay, really depressing, the war was horrible), was fascinating. I loved being able to see the events through two sides of completely different stories and, despite being slightly more interested in Werner's because of his position, I really, really enjoyed reading about Marie-Laure and Werner's lives from when they were young up until the climax of the story. I'll admit I wasn't thrilled with the epilogue, but that was for my own reasons, and, honestly, it was still such a fantastic read.
A+, recommended to all history/WWII buffs.