This review is spoiler-free!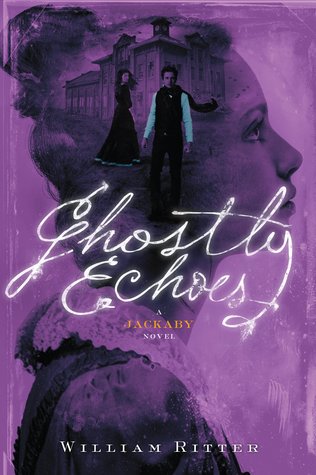 Ghostly Echoes by William Ritter
Series: Jackaby #3
Genres: Young Adult, Mystery, Paranormal
Release Date: August 23rd 2016 by Algonquin Young Readers
Format: Hardcover, 352 pages
Rating: ★★★★★
Find it here: Goodreads || Book Depository
I really do love this series.
However, I wouldn't say Ghostly Echoes was my favorite of the three published so far (out of four–we only have one more left! D: ), but I did still enjoy it a lot, thanks to Jackaby and Abigail, along with, of course, Jenna.
If I had to pick an order of favorites, it would go Jackaby –> Ghostly Echoes –> Beastly Bones, but I wouldn't let that disintegrate how much I love the series in any sense. I liked the first one the best, because I like Jackaby the best. And, in the book with his name as the title, he does play the biggest role. In this one, we get more Abigail and Jenna up front than we do Jackaby, if only because of the connection the two ladies share, which I won't spoil on. Don't get me wrong, though, Jackaby is definitely still very prominent in the series, as he's the main detective character, and Abigail is only technically his assistant. He works a little more in the shadows this time around, but only just.
I really enjoyed the fact we're given more of Jackaby's story in this one, too, as his background, powers, and overall mentality are a bit of a mystery to everyone from the beginning of the book. His reveal, though, is obviously a set-up for the fourth and final book in the series, as it's kind of a doozy and still leaves a lot to be answered.
All that aside, the shenanigans that the group manage to get up to, along with the mystery to solve and the world to traverse are just as fun in this book as they were in the last. I enjoy the interactions all of the characters have with one another, and I really enjoy the relationship Jackaby shares with Abigail, though I can't help but hope their platonic relationship continues to grow strong–but stay platonic.  If it doesn't, that's also okay, but the fact they can work together and keep the conversations that they do (one in particular that you'd have to read the book to understand) while staying platonically affectionate for one another is something you don't really see often. And I like it.
Whatever happens, happens, and I can't really delve into more along those lines without spoilers, so I won't.
Jenna's story was fantastic, her involvement with Jackaby and Abigail is so much fun, and her book in this series was a really good read. I can't wait for that fourth book.
(Fingers crossed that it won't really be the last one.)