I know winter doesn't technically start until December 21st, with the equinox, but I can't bring myself to think of December as anything but winter alone.
Looking for some winter reads to get you through those frozen months? You've come to the right place! Here are four series/standalones that are perfect for picking up when the weather outside is frightful, or when you just want something to cozy up with. Aside from Harry Potter, of course.
Disclaimer: some of them are a bit … chilly. Don't expect all of these to leave you warm-hearted. 😉
---
The Dash & Lily Duology by Rachel Cohn & David Levithan
Goodreads || Book Depository
Why I recommend this one: Specifically for the Christmas part of the wintertime, I think it's pretty obvious why this is a good fit. They both take place right around the holiday and they throw in enough elements and festiveness for you to know that Christmas is a central theme to the story, especially in the second one. They're quick and cute and good for when you don't want anything too heavy. Boomer is good comic relief, I promise.
---
The Need Quartet by Carrie Jones
Goodreads || Book Depository
Why I recommend this one: Well, it takes place in Maine, for one thing. It's cold up there! There are a lot of scenes of chill and snow, and it gives the cold background that goes well with winter. It doesn't have a Christmasy theme to it–it's about fairies–but I still think it's a good series to pick up for the cold months.
---
The Iron Fey Series by Julie Kagawa
Goodreads || Book Depository
Why I recommend this one: Much like the series above this one, there's something distinctly cold about the setting of these books. There are scenes with snow and scenes of darkness and fear, and I don't feel those things are much appropriate for spring or summer (though, there is a lot of "Midsummer Night's Dream" to this–I suppose it could also work to go with that). Maybe fall, but it's not really a Halloween kind of chill these give you, despite having some downright nasty fairy folk around, so I feel it's better for cold months. Okay, or Halloween. Halloween can be included.
---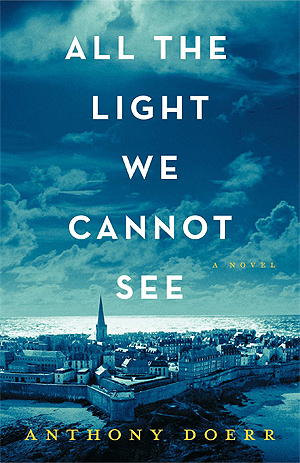 All the Light We Cannot See by Anthony Doerr
Goodreads || Book Depository || My Review
Why I recommend this one: It's a big book with a beautiful story and short chapters, so it's good to grab and sit by the fire with for a little while. It definitely doesn't have a warm subject to it, but there are definitely scenes in it that help take the chill away. I wouldn't expect to get through this one in one sitting, but it'll last you a while … probably. You might not be able to put it down.
---
And there's my list of recs for the wintery months! Since I've already read these, I won't be reading them come winter, so I need something to pick up myself. If you know anything good for the winter, please let me know! I would love suggestions.
Thanks for reading!