[ March 20th, 2020 ]
Warning: Picture-heavy!
---
IT'S GO TIME, Y'ALL! I originally was only going to blog about my gameplay over on my Tumblr blog (where the community is), but, with the constant worry that Tumblr might one way go up in flames after their mistake with the NSFW content ban, I decided I'll also cross-post it here fr th mmrs. Also so I don't potentially lose it.

Honestly, I have no idea how to go about starting this up. It's been 84 years. I can't remember how these used to be formatted. Here goes nothing!
So, like the username of this blog suggests, I went full booknerd and named my island Cabeswater after the mystical forest from The Raven Cycle by Maggie Stiefvater, a personal favorite series of mine, with the intention of turning it into a magical, wild forest with me as the resident magician greywaren witch.

I didn't get a particular picture of it, but my fruit is apples!
My first villagers are Cobb…
And Katt! And, won't lie, I'm so thrilled to have a cat to start, even if Katt isn't my favorite cat villager, I'm pleased all the same.
I sped along with the intro bits given to me, eager to throw myself into the world… only to find out I'm confined to a small part of the island. Not fair!

(I also goofed on the hair color. I wanted gray, forgetting that the ash blonde was also an option and was not a lighter gray like it looked in the menu.)
Cobb started off the day nicely by giving me a cap. Not sure what he's trying to suggest by giving me a plain cap, but, hey. I'll take it.
It's, ah– It's something. Maybe not a Look (TM), but… something.
Katt, on the other hand, gave me a recipe for an adorable leaf umbrella! I didn't get a picture of it, but I definitely made it!
First catch of the day! And of the game! Big ol' Olive Flounder. (I was expecting a Sea Bass, tbh.)
I knocked out the 5,000 miles Nook wanted me to rack up pretty fast. It wasn't hard at all, they make it fairly easy to get them!
Purple is my favorite color, so I went with that option for the roof of my soon-to-be house.
Ah, yeah. So, first balloon? Had a toilet in it. Fine by me, I'll need one for my house eventually, but it wasn't quite was I was expecting from my first balloon!
I stung my face while looking for tree branches, and Katt came through once again to give me a recipe for medicine! Cobb, on the other hand? well…
Thanks, bud.
And my second balloon of the day! What could it be, you ask? Well!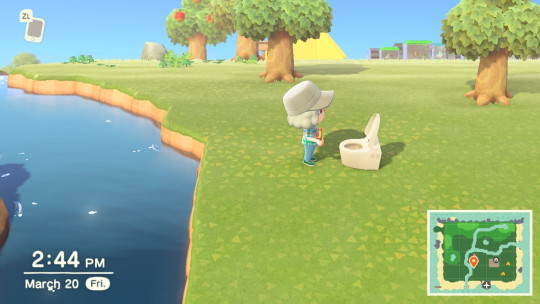 … Yeah. Another toilet. I don't know what the game's trying to tell me, but rude.
Into the night we go, I picked the game back up to do some night fishing and got this big boi. Startled the crap outta me, too.
And I'm going to wrap my first entry up here! The following ones will likely be a similar length, but not of a single day. I just had a lot to do the first day, and I don't think I'll be doing quite as much in the following days.

We'll see what happens.
Thanks for reading!