[ March 25th, 2020 – March 27th, 2020 ]
Warning: Picture-heavy!

---
I will slow down enough to get weekly updates instead of every few days eventually, I swear! There's just so much happening…
Starting off with the move-in of Hornsby! He's pretty nice, and it was super cute seeing him doing yoga with Truffles (which you'll see in a moment).

You can't see it here, but I'm confining everything to the starting island plot despite having plenty of room elsewhere to put things. Why? Because I'm petty.
The museum was finally opened! I was losing it with all of the bugs and fish I had lying around in wait… now to go absolutely feral and rush Blathers with all of them at once!
Mabel set up her little shop! It was so cute seeing her selling her wares on the blanket there.
Then I paid off my loan. So far, it's been pretty easy to do! But I know it's going to get really hard, really soon…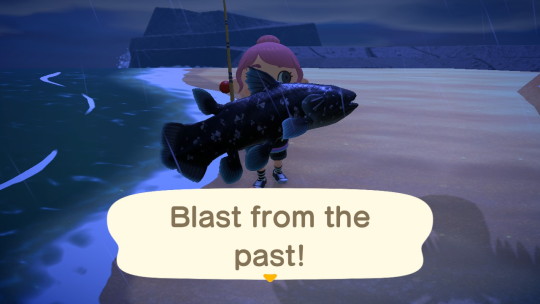 … It was a very eventful night. Blathers probably had enough of me that day, and it was only his first day  😅
Truffles moved in next!
Norma is by far my favorite villager at the moment. (Sorry other villagers!) She's just so cute, and she taught me the sadness reaction! Her dress is also adorable. I love her!
My Twitch group dropped by and we threw a party in my throne room! All hail the toilet king!

I'm an adult, I swear.
I absolutely love the little notes you get with your bottle DIY recipes, and this one was one of my faves. Anything about books and you've got me hook, line, and sinker.

(The recipe was a garden rock, I think?)
ISABELLE!!!!!
And with Isabelle, the service center is upgraded! And looks dope!  💕 Gonna have to get a good flag design, somehow. (Magical forest needs a magical tree, right?) And we're not talking about Blue's backyard tree… or are we?
I caught Hornsby and Truffles doing yoga outside the service center. The little things the villagers can do now make everything about this wonderful game all that much better.
Next loan: done and done! Bring me that new room!
We're building a new bridge, y'all!
More book-inspired DIYs! I love it!

(This one was a grass cutout, if I remember right.)
And, finally, I got the pocket expansion! Which is great, because I am a hoarder and it's becoming a problem…
That's all for this entry, though! I'll be back soon with another one, because things just keep happening and I have SO MUCH time on my hands with the lock down going on!
Stay safe, everyone! And thanks for reading!