[ April 1st, 2020 – April 4th, 2020 ]
Warning: Picture-heavy! 
---
Aaaand we're back! I was going to make this one a week, but… I ended up with way too many pics. So we're breaking it up. Again. Sorry!
New passport! I'm really loving the titles.
I was so excited when I saw that first Bunny Day Balloon! Little did I know how absolutely obnoxious these babies will end up being in the days to come…
It's a cute photo until you see it.

How does he manage to be so freakin' creepy.
Oh, I'll call you something all right.

(Marina was singing her way through this entire interaction. It was pretty cute.
Cleo moved in! She's such a pretty color, I ain't even mad.
… What'chu tryin' to say there, Cobb?
By far my favorite thing to catch during the spring while I'm aggressively avoiding eggs.
Bedroom is coming along! I'll probably end up shifting it to the attic (if that option is still there as a house upgrade), but, for now, I'm setting it all up here.
… What.
I caught a flea off of O'Hare. He had these choice words to share with me once I released him from his misery.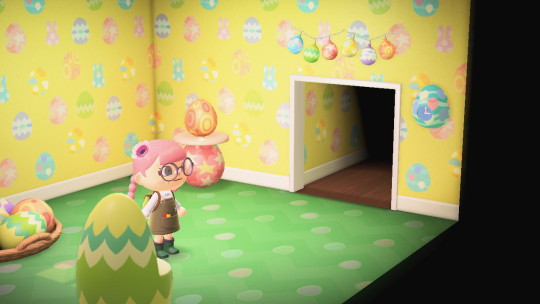 Bunny Day room is coming along!
First visit with Flick! He reminds me a LOT of one of my friends. I love him.
Caught Norma dozing under a cherry tree.
Angus up and decided he wanted to move in.

(I was saving that spot for Marshal hunting, dammit!)
And a camper showed up! What big… lips… you have, Barold…
Truffles and Norma decided to work out a little in the square! I caught them in a moment of exertion, apparently.
I found this beautiful treasure while visiting a friend's island. Mabel would never lie to me.
My first time seeing Celeste! How do I make her stay?!

(Where's my observatory, Nintendo???)
Uh… thanks, O'Hare. I'll definitely come to you the next time I have that kind of problem.
My first shooting star! And I'm looking… well, amazing, obviously. Fedora and all.
I went to change and do some other things, and when I came back again I found Celeste wandering around my star-watching spot just as some more were coming in!
The next day Bea decided to move in. She immediately started talking about books with me, so I couldn't be mad if I tried.

(You want to get on my good side? Talk about books. Easy.)
Speaking of books… it looks like Truffles got into a fight with Norma about one. Can't say I blame you, Norma. I'd be pretty upset too.
The fight must have hit her pretty hard, though, because that night Truffles asked if it was alright she moved out. She said she had bigger plans, so I couldn't exactly say no.
Tbh I just thought this pose was funny, so I took a snap of it. I love the little physics bits in this game.
And that's all for this one! I've got a whole lot more for the next few days, so an update will be coming very soon…
Thanks for reading!